Now more than ever, people are buying or leasing property for recreation.  Recreation is directly related to wildlife, and the more wildlife you have on your property, the more valuable your land is.

Tools to Make the Sale

If you have land to lease or sell for hunting, the number and the quality of the wildlife on your property will help determine the property's value. Therefore, if you're thinking of selling or leasing your hunting property, two of your best tools to help you make the sale will be a Moultrie feeder and Moultrie game camera.

Food for Thought: Getting Wildlife to Cooperate
One major problem with selling hunting property is that often the wildlife does not show up when the buyers do. Moultrie feeders and cameras can help you show exactly what is on your land. Moultrie feeders can be set to go off at specific times. When the feeders go off, the wildlife appears. Simply set the feeders to go off when potential buyers are viewing the property. They will be able to see the game at the feeder and know what type of wildlife they'll have on the property if they buy or lease.
Photographs Still Worth a Thousand Words
Since pictures speak a thousand words, also be prepared with photographs of your property's wildlife. Set up a game camera facing the feeder. When the feeder goes off, wildlife will be attracted to the food and the film or digital camera will photograph all of the activity.
One advantage to using Moultrie game cameras is that you can set the pictures to be time and date stamped. The time and date on the photograph will show the buyer that there is still wildlife after hunting season has ended and game will be available for harvest next season.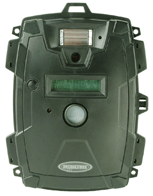 Sell This Hunting Land the Quick and Easy Way
By scouting the property with the feeders and cameras, you're providing another huge advantage to your hunters. You can show the hunters interested in leasing your property:
Buck-to-doe ratio of the herd.
Where most of the deer are concentrated.
The health of the herd.
What time of day or night the deer are appearing.
The size and number of deer on the property.
A Moultrie game feeder and game camera are the two most efficient tools a landowner can use to sell or lease property for a fair price.
To learn more about Moultrie's line of products, click here.